FAQs
If your question is not listed below, please contact us via email at info@interactivehealthcaretraining.co.uk.
If you are working through an agency, they may have registered for you. You, therefore, need to log in using your email and password that they have given you. Please see Q2. below. If you encounter any difficulties, please contact your agency. Wherever possible, use a laptop or computer rather than a mobile phone.
To register, please click on the home page, and then click on the green button in the top right-hand corner labelled 'Register with us.' If you are on a mobile device, please click the menu icon and then scroll down until you find the 'Register with us' button.
Please fill out our registration form with your personal details. While you are doing this, please type the code (case-sensitive) that your agency has provided you in the field labelled 'Organisation/Agency Code.' The correct box is shown in the picture below. If you are registering as an independent user and paying for your own courses, please put 'N/A' in this field.
You will be asked to choose a password, which you must choose yourself. You will also need to enter the verification code that you see - this is automated and will be different each time you refresh the page. Press 'Next' to continue to the Second Step of the registration form.
Choose the required care training courses from the list shown on the form by ticking the boxes, or any combination of these courses. If you do not select any care training courses at this point, the registration will not be accepted. If no courses appear on this list, then the organisation/agency code may not have been entered correctly. Please navigate back to the first step of the registration process and re-enter the code as described in the steps above.
Once you have selected your courses please click on 'Next' at the bottom of the page. The registration will now be complete.
Please note that if you are paying for the courses yourself as an independent user, all the course expiry dates are set to one (1) year. This is an automatic function on our system and cannot be changed.
Please click on the home page and go to the blue box on the right-hand side labelled 'Login.' You can see an example of this box below.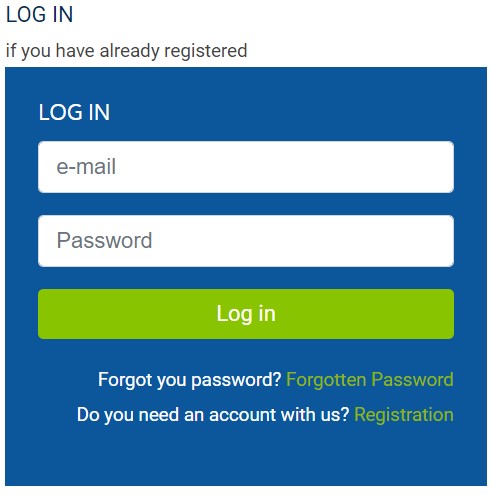 Enter your login details. If your agency has registered on your behalf, they will provide you with your login details. You will need to enter your email address and password.
Click the 'Next' button. Please do not press the 'Registration' button.
If you ever forget your password, you can press the 'Forgotten Password' button to reset it. An email link will be sent to the email address you have registered with.
Once you are logged in, you will see three option on the right-hand side of the screen; My Profile, My Packages, and Log Out.
To edit your personal details, press 'My Profile.' To start your training, press 'My Packages.'
To start your training, log in to your account (as outlined above) and press 'My Packages.'
Scroll down the page to the section marked 'Purchased Packages,' and click the blue 'Start the training' button underneath the name of the course that you wish to complete.
You will need to finish all modules & sections in a course for it to be marked as complete.
You are able to log in and out as you please, using your email address and password. Please do not attempt to re-register using a different email address.
Please make sure you have clicked on every single page number for the course. Page numbers are displayed at the bottom of the course, and appear in red when they have not been clicked, grey to indicate which page you are currently on, and green when they have been read.
Log in to your account, and select 'My Packages'. Under the heading 'Added Packages', click the blue button labelled 'Choose another package.' This will take you to a list of all the additional courses that are available to you (if you have registered through an agency, this list will be limited to the courses they have chosen for you to complete).
Click the red 'Add Now' button under the name of the course you would like to add. Then, click 'Buy This Package.' If you are with an agency, this will automatically add the course to your packages, and will not charge you any money. If you are an independent user, this will take you to the PayPal payment screen.
If you have completed your training through an agency, your certificates will have been sent directly to them. You will need to contact your agency directly to gain copies of your certificates. If you cannot obtain your certificates from your agency, please email us at info@interactivehealthcaretraining.co.uk and we will do our best to help.
If you purchased your courses yourself, you can download your certificates by clicking 'My Packages' and scrolling down to 'Completed Packages.' There will be a button labelled 'Download your certificate' underneath each finished course. Click this to download your certificates.
You can renew your training up to 6 months before the expiry date.
When your training is due for renewal, you will be able to log in to your account, click 'My Packages' and then scroll down to 'Completed Packages.'
Courses that can be redone will have a red 'Renew course' button underneath their title. Click this button to renew your training. If you paid for your courses yourself as an independent user, you will need to pay for them again each time you renew them.
You are able to purchase your training online during and/or after the registration process using either a credit/debit card or a PayPal account (if you have one).
If you have an account with PayPal and have forgotten your PayPal login details, you can obtain these from PayPal by visiting their site www.paypal.com or contacting them directly.
You can pay for your courses using a credit/debit card by logging into PayPal as a guest during checkout.
To resolve this, please re-enter your email address into both the Email and Confirm Email fields on the registration form, ensuring that no extra spaces are inserted. If you are copying and pasting an email address into these fields, please ensure that you do not highlight an extra space when copying and pasting the email from the original document.
This means you already have an account registered on our website with that email address. If you have forgotten your login details, please press the 'Forgotten Password' link in the Login box to reset your password.
Alternatively, you can also contact us via email: info@interactivehealthcaretraining.co.uk if you are still having difficulties.
There is currently no option to remove a course from your account once it has been added. However, if you have added a course that you do not need to complete, you can simply ignore this course and not complete it.
The verifiable numbers of CPD hours for each course are as follows:
An Introduction to NEWS2 & the Early Warning Signs of Sepsis - 1 Verifiable CPD Hour (or 1 CPD point)

Anaphylaxis Awareness - 2 Verifiable CPD Hours (or 2 CPD points)

Autism & Asperger's Syndrome Awareness - 2 Verifiable CPD Hours (or 2 CPD points)

Basic Life Support - 4 Verifiable CPD Hours (or 4 CPD points)

Basic Clinical Observations - Level 3 - 2 Verifiable CPD Hours (or 2 CPD points)
Blood Component Transfusion - 3 Verifiable CPD Hours (or 3 CPD points)

Cardiopulmonary Resuscitation (CPR), Defibrillation and Anaphylaxis - 4 Verifiable CPD Hours (or 4 CPD points)

Catheter Care - 1 Verifiable CPD Hour (or 1 CPD point)


Chaperoning for Healthcare Professionals - 2 Verifiable CPD Hours (or 2 CPD points)

Communication - 1 Verifiable CPD Hour (or 1 CPD point)

Complaint & Conflict Resolution - 0.5 Verifiable CPD Hours (or 0.5 CPD points)

Consent Awareness - 1 Verifiable CPD Hour (or 1 CPD point)

Continence Care - 1 Verifiable CPD Hour (or 1 CPD point)

Control of Substances Hazardous to Health Regulation (COSHH) - 0.5 Verifiable CPD Hours (or 0.5 CPD points)


Core of Knowledge (Laser and IPL safety) - 3 Verifiable CPD Hours (or 3 CPD points)

Counter Fraud - 1 Verifiable CPD Hour (or 1 CPD point)


COVID-19 Awareness - 2 Verifiable CPD Hours (or 2 CPD points)

COVID-19 Vaccination - 1 Verifiable CPD Hour (or 1 CPD point)

Decontamination and Infection Control for Dentists and Dental Health Professionals - 5 Verifiable CPD Hours (or 5 CPD points)

Dementia Awareness - 2 Verifiable CPD Hours (or 2 CPD points)

Diabetes Awareness - 3 Verifiable CPD Hours (or 3 CPD points)


Domiciliary Care Refresher Course - 5 Verifiable CPD Hours (or 5 CPD points)

Duty of Care - 1 Verifiable CPD Hour (or 1 CPD point)

End of Life and Palliative Care - 3 Verifiable CPD Hours (or 3 CPD points)

Epilepsy Awareness - 2 Verifiable CPD Hours (or 2 CPD points)

Equality, Diversity & Inclusion - 2 Verifiable CPD Hours (or 2 CPD points)

Falls Awareness - 2 Verifiable CPD Hours (or 2 CPD points)

Fire Safety Awareness - 0.5 Verifiable CPD Hours (or 0.5 CPD points)

First Aid Awareness - 4 Verifiable CPD Hours (or 4 CPD points)

Food Safety and Hygiene - 2 Verifiable CPD Hours (or 2 CPD points)

Handling of Violence and Aggression - 0.5 Verifiable CPD Hours (or 0.5 CPD points)

Health & Safety Including Risk Incident Reporting - 0.5 Verifiable CPD Hours (or 0.5 CPD points)

Immediate Life Support (ILS) - Level 3 - 3 Verifiable CPD Hours (or 3 CPD points)
Infection Control and Standard Precautions, HAI (MRSA & Clostridium Difficile) - 0.5 Verifiable CPD Hours (or 0.5 CPD points)

Information Governance, Data Protection, Handling Patient Information, Record Keeping and Caldicott Protocols - 0.5 Verifiable CPD Hours (or 0.5 CPD points)

Lone Worker - 0.5 Verifiable CPD Hours (or 0.5 CPD points)


Managing Challenging Behaviour in Adults and Children - 1 Verifiable CPD Hour (or 1 CPD point)

Manual Handling - 3 Verifiable CPD Hours (or 3 CPD points)

Medication Awareness and Dosage Calculation for Nurses; An Introductory Package for Nurses - 4 Verifiable CPD Hours (or 4 points)

Medication Awareness and Record Keeping for Care Workers - 3 Verifiable CPD Hours (or 3 points)

Medication Awareness for Nurses Working in Mental Health - 4 Verifiable CPD Hours (or 4 points)


Mental Health & Learning Disability Awareness - 3 Verifiable CPD Hours (or 3 points)

Online (Modules 1-9) - 4.5 Verifiable CPD Hours (or 4.5 points)

Preventing Radicalisation - 1 Verifiable CPD Hour (or 1 CPD point)

Privacy & Dignity - 1 Verifiable CPD Hour (or 1 CPD point)

Radiography and Radiation Protection for Dentists and Dental Care Professionals - 5 Verifiable CPD Hours (or 5 CPD points)

Respect and Dignity - 1 Verifiable CPD Hour (or 1 CPD point)

Restraint Awareness - 2 Verifiable CPD Hours (or 2 CPD points)

RIDDOR (Reporting of Injuries, Diseases & Dangerous Occurrences Regulations) - 0.5 Verifiable CPD Hours (or 0.5 CPD points)

Safeguarding Children & Young Adults - Level 1 (POCA 1) - 1 Verifiable CPD Hour (or 1 CPD point)

Safeguarding Children & Young Adults - Level 2 (POCA 2) - 1 Verifiable CPD Hour (or 1 CPD point)

Safeguarding Children & Young Adults - Level 3 (POCA 3) - 3 Verifiable CPD Hours (or 3 CPD points)

Safeguarding Vulnerable Adults (SOVA) - Level 1 - 1 Verifiable CPD Hour (or 1 CPD point)

Safeguarding Vulnerable Adults (SOVA) - Level 2 - 2 Verifiable CPD Hours (or 2 CPD points)

Safeguarding Vulnerable Adults (SOVA) - Level 3 - 3 Verifiable CPD Hours (or 3 CPD points)


Substance Misuse - 3 Verifiable CPD Hours (or 3 points)

Team Leader in a Care Setting - 1 Verifiable CPD Hour (or 1 CPD point)
The Care Certificate - 25 Verifiable CPD Hours (or 25 CPD points)


The Domiciliary Care Annual Refresher Package - 20 Verifiable CPD Hours (or 20 CPD points)

Understanding Your Role - 1 Verifiable CPD Hour (or 1 CPD point)

Working in a Person Centred Way - 1 Verifiable CPD Hour (or 1 CPD point)

Your Personal Development - 1 Verifiable CPD Hour (or 1 CPD point)